Contributor: Angus McTaggart, Nonning Pastoral
My family owns Nonning Station, north of Kimba SA running around 16,000 ewes and turning off around 20,000 Organic Lambs. I managed Nonning for 20 years, and we also own 'Kilmory' - a commercial cattle and White Dorper stud property - north of Lucindale, SA, that I have managed for the last 5 years.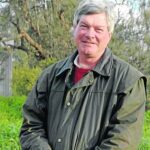 For pastoral properties - such as ours - not able to run cattle due to lack of water, or goats due to SA Government laws, I believe Dorpers and possibly Dorper derived composites are by far the most profitable sheep.
Below I touch on the needs of commercial producers - how the stud industry is meeting these needs, and how it is failing to meet them. I also offer my reasons for this as food for thought for your stud or commercial Dorper operation.
How is the Stud industry meeting the needs of Commercial producers?
I believe the main economic drivers are Survival, Reproduction and Carcase Quality.
The Dorper breed was developed in very arid conditions using the Persian Ewe and is inherently extremely tough comparable only to other African breeds with an inferior carcase.
The breed is very productive and stud breeders are selecting for multiple births and maternal production using Lambplan indexes and improving. Personally, I cull ewes that fail to get pregnant believing this is more important than multiple births.
Stud are improving carcase growth and quality using visual selection and especially Lambplan performance recording.
How is the Stud industry failing to meet the needs of Commercial producers?
The main problem with the Dorper breed and Stud breeding is structural faults. These can be split into those that can't be hidden, and those that can manually be hidden by shearing, trimming etc.
Simple faults such as undershot jaws that were fairly common when we first imported genetics have been dealt with and in our Stud are now rarely seen. Other faults such as elbows is easy to pick at a young age, sometimes developed with age, and is difficult to pick up. My observation is that it is often the better rams with very good Lambplan figures that develop this problem and break down.
Some Stud breeders believe that it is normal practice to shear their sheep mostly in preparation for sale. I have not shorn our sale rams for many years and believe that buyers should be able to see what they are buying. I am very hesitant and reluctant to buy rams that are shown and look very closely for shearing marks on the belly.
By far the worst fault in the Dorper breed is twisted hooves. In our Stud, I cull roughly half of the rams we breed - something like 95% of those are due to fault hooves.
Some Stud breeders regard horns as normal. I cull for this as I have found many of the small horns curl around and grow into the sheep's face. It is also unnecessary.
Colour is something that Stud breeders consider important. Unless I am selected for top ewes for ET or selecting a top sire, I pay little attention to colour and likewise with eye pigmentation. I have personally not seen a Dorper with eye cancer and consider colour to have no commercial disadvantage.
What are the reasons for this?
To understand the problem I think you need to look at the development of the Dorper Breed. When the Dorper was being established from predominately two very different breeds, many of the progeny were off type. The South Africans developed a system of typing to ensure that the sheep they used to breed on with suited their breed standard. They did an excellent job of producing what I consider the most suited meat sheep breed in the arid areas.
Sheep showing is a part of the South African breeders culture, and a great deal of prestige and pride is associated with showing and judging at these shows. The judges or inspectors are trained to be very competent and consistent at judging show sheep and are usually very good at this. Unfortunately they have been trained to believe that if a fault can be manually altered by shearing or trimming to prepare a sheep for showing, then they should ignore it.
A combination of stud breeders taking advice from South African inspectors or Australians trained by South Africans, and breeders ignoring or hiding these faults, has resulted in what I consider cull sheep being used to breed from and perpetuating the problem.
I believe that these structural issues are the reason some stud breeders have left and some commercial breeders are using Dorper derived composite alternative breeds such as the Australian White or Ultra White.
My advice to breeders is to use South African, Namibian or Australian inspectors if you wish as they have a lot of ability, but be aware of the systems faults. And as with any classer in any breed, make sure they listen to you and understand your situation and aims and class your sheep accordingly. If the first thing they say is "I must tell you" then I would suggest that they are not listening.
Note: The term "Dorper" in this article is used as a general term for both White Dorper & Dorper sheep.
Readers are reminded that the information and opinions in this article are not necessarily those of the Australian Dorper & White Dorper Association and/or its members.