Bronte Mawson and Annabel Managal own and operate the Australis White Dorper Stud, Genelink Dorper Stud and have now added and UltraWhite breeding program to the mix. In this member spotlight they share recent feedback they have received across their three breeds, and how it is being utilised in their studs to meet the demand and take their breeding programs to another level.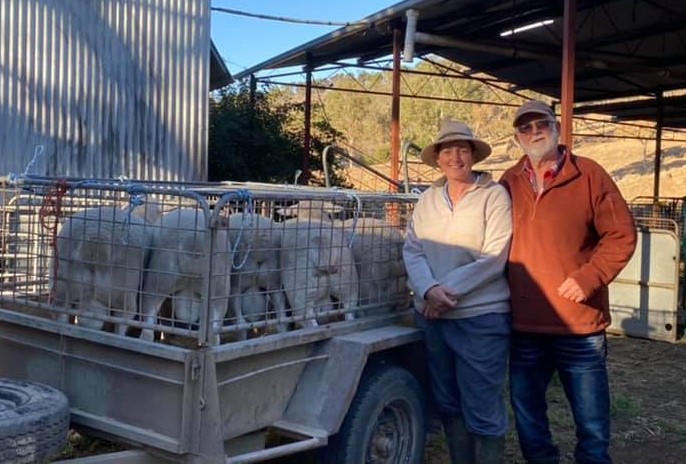 Australis White Dorper & Genelink Dorper Studs
Client feedback from our Australis White Dorper and Genelink Dorper sales has mirrored the demand we see in our UltraWhite program. Clients are now focusing on clean shedding, well-muscled and balanced rams with good feet and most importantly rams that move freely. We now see clients increasingly taking note of lamb plan figures with growing interest in Lamb Eating Quality.
To support this in 2021 we began using the Neogen 50K genomic DNA testing program, via tissue sampling, which verifies parentage and develops genomic predictions linking directly with Sheep Genetics Lambplan. To quote Adrian Veitch Kaya Studs WA, "More facts, less spin".
Taking our Australis breeding program to another level, in partnership with Bunnerungie White Dorper Stud, we purchased Etiwanda Pilbarra 204123 (pictured right) at their recent sale, a ram that has all the attributes described above, that will add style and presence to our larger framed, clean skinned Australis Ewes.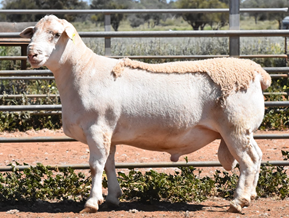 He will also provide the necessary Lambplan linkages across other White Dorper studs in Australia that will take the breed forward. We are looking forward to consolidating our Australis White Dorper Flock at 250 Cleanskin, Easy Care ewes producing 100 rams per year.
Genelink Dorpers, responding to dominant feedback from clients, have trimmed the breeding flock to 100 ewes that have a soft, wool shedding coat, long bodied ewes that are lambing 3 times every 2 years with a very high twinning rate.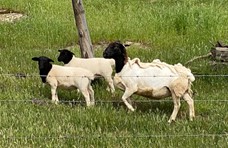 UltraWhite breeding program
Recent feedback from Scrub O'Brien, Westcoast Livestock, on UltraWhite composite ram performance has been positive. May / June sucker lambs dropped from Kelvale blood Merinos on Eyre Peninsula and from Dohne ewes on Kangaroo Island sold in August / September average 22.5kg $182-$220, the light weights made $158. Only 9-12 weeks old they met the breeder's highest expectations.
Good news stories like this have reinforced our decision to start an UltraWhite breeding program.
From 2016, collaborating with Brendon and Maureen Duncan, Glen Park Wentworth NSW we have been collecting and freezing semen from their foundation UltraWhite ram purchased from Hillcroft Farms WA and inseminating selected clean skin White Dorper ewes. Progeny from these rams and a defining sire in Glen Park 1416 have made up our foundation flock.
Continuing our collaboration with Glen Park we jointly purchased a promising UltraWhite stud ram, Bulmar 20250 (pictured right) from Bulmar studs in NSW for extensive use in the current breeding season. Now trained for semen collection and frozen semen in the tank he is ready for some paddock work.
Stud ewe and embryo purchases and future embryo transfer programs will define our future stud flock Genelink Ultra Whites (Flock No 12). Our aim is to have 250 stud and composite clean shedding ewes producing 100 rams per year.
- Contributor: Bronte Mawson, Australis & Genelink Studs
For more, view their website or Facebook page.