Taking a livestock business to the next level requires good monitoring, good decision making and great implementation.
Electronic identification (eID) can be a powerful tool to make more informed flock management decisions at critical times throughout the year, such as pregnancy scanning and lamb marking.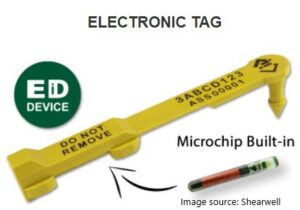 MLA Donor Company (MDC) co‑funded the Agriculture Victoria 'eID Enabled' project to investigate opportunities to incorporate eID on‑farm and within the lamb supply chain.
"The more things you measure, the more you can perfect your management and the better your business will be," Agriculture Victoria technical specialist Kirstie Anderson said.
"Incorporating eID systems into your enterprise can help you achieve this outcome.
"eID enables you to record different aspects of performance across a range of time points. This data can then be collated and analysed, allowing you to make informed decisions.
"The value of implementing eID is higher the earlier you start recording information. Ideally you should apply the tags at lamb marking and start your data recording from that point."
Five benefits of eID:
The value eID can bring to individual sheep businesses varies, but broadly includes these five benefits:
Measure the response to management: eID makes it possible to make a change and measure the difference – such as matching condition score at joining to pregnancy scanning result.
Manage individuals while also managing the mob: Use eID to monito individual animals while running them in large mobs. The technology allows mobs of sheep to be boxed together for periods of time before drafting them back into their relevant classes, reducing labour requirements and streamlining grazing efficiency while retaining the ability to monitor individual animals.
Increase labour flexibility: Reliably condition scoring individual animals requires training – if key staff members are busy or leave, it's not always possible to have a trained individual to complete these assessments. However, when eID equipment is set up, relatively untrained staff can collect weights – information which can be used to assess an animal's status.
Select animals to retain: Use eID to collect data on individual animals to aid decisions such as which sheep to retain in the flock based on their performance. To do this effectively the data collection process must start as early as possible, from lamb marking.
Enhance traceability: The ability to track animals as they move through the value chain is an important feature of eID, but it's not only useful for industry to prepare for biosecurity breaches. Consumers increasingly expect to be able to trace their food and fibre to its source and are willing to pay more for products they trust.