Contributor: Brendan Duncan, Glen Esk Pastoral
Managing a drought or even just dry times is always an interesting exercise and one we can all do without.
I have spent all my life in pastoral country with an annual rainfall of 200 to 220mm. I have come to the conclusion that you are always in drought. You are either going into drought or dry time or coming out of one. For that reason, as they say 'you make hay while the sun shines'. You make the absolute most of the good seasons.

Every drought is different but they all end up with the same result; no feed and stress on the livestock and the manager. The last drought was made considerably worse by the huge number of kangaroos that moved in and put enormous grazing pressure on the country.
Following the drought in the early 2000's, I decided to start preparations for the next one. At that time we purchased eight 65-tonne silos and 30 feeders for paddock feeding. I also had hay trailers built. We stockpiled hay and grain while it was plentiful and more reasonably priced. We still have an emergency supply of 140-tonne of grain buried in a bunker for a worst case scenario if there was no grain available.
Fortunately, it wasn't needed this time.
As the recent drought set in, I planned accordingly.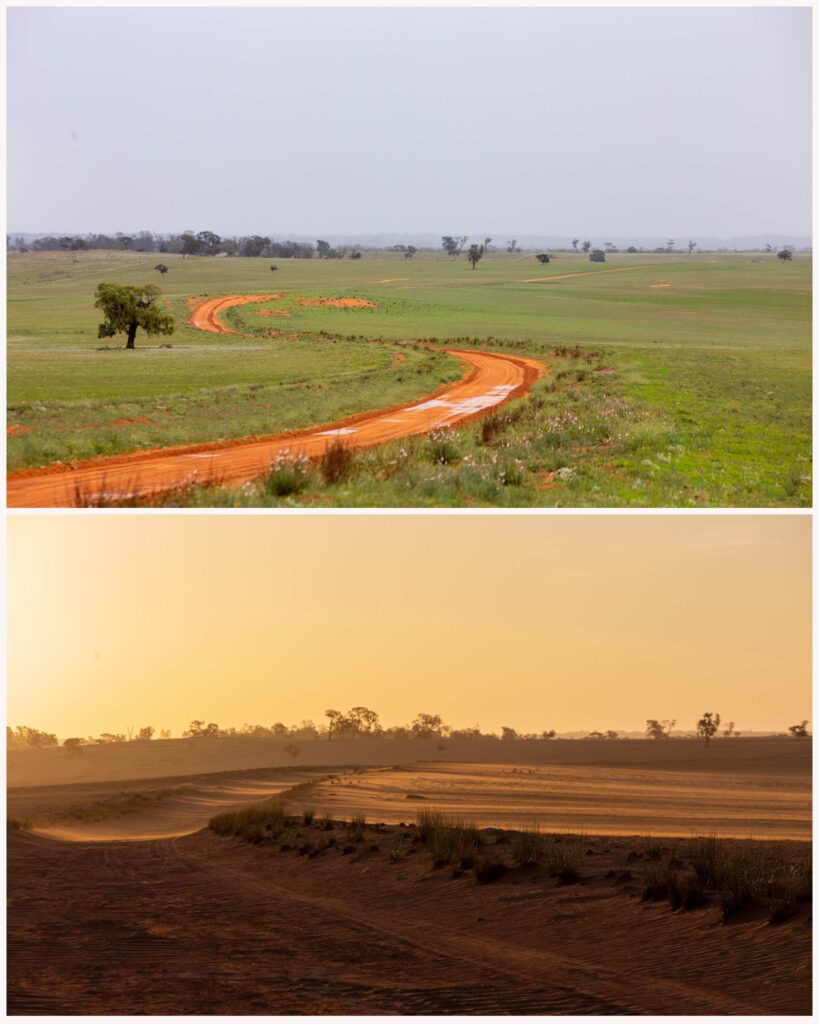 I reduced stock numbers gradually, as the need arose. If there is to be an advantage of drought it is that the sheep are culled and there is opportunity to remove the poor doing sheep by natural selection or culling.
We began to supplement feed the ewes in the paddock. The feeders were shut down to only allow lick feeding of barley and a small amount of lupins. The feeders were only topped up every two to three weeks.
Mob sizes were reduced to 150 to 200 ewes. Gypsum and stock salt were provided adlib in a drum.
Feeding is not for everyone but I decided to maintain my core breeding ewes which we achieved. It is not a cheap exercise but I think it is the best option for my operation.
It is important to try and stock up on grain and fodder as early as possible. Once a drought sets in, fodder prices always rise. You still have to buy in but the average cost is then reasonable.
We fed sheep for nearly five years so the novelty wears off after a while. Once you accept the fact that it isn't going to rain and that you can't make it rain you just have to wait and go with the flow.

Checking weather bureau forecasts during a drought causes unnecessary stress. In 2017 I was fortunate enough to come across a Facebook page called 'Inigo Jones Long-term Weather Forecast', run by David Burton. His forecasts proved to be very accurate and certainly made it easier to make management decisions.
I have endured drought situations with both Merinos and Dorpers. The Dorper is bred for arid conditions so they handle drought conditions better than many other breeds. Dorpers and Ultra Whites bred and raised on Glen Esk Station are run under extensive rangeland conditions and this allows for natural selection for feed utilization and mothering. These conditions make them hardy and adaptable to seasonal variations. They still manage to breed and keep some sort of cash flow coming in to the business in the most trying times.
Drought is nature's way of controlling animal numbers and resting the soil. As we leave this drought behind, I am making plans to refill the silos and restock the hayshed.