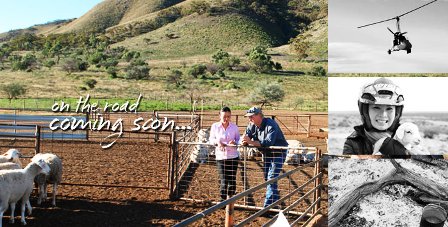 A full half hour episode of Poh's Kitchen based on Dorpers has recently been filmed. The show is based in the Flinders Ranges and pastoral South Australia showing the transition of Saltbush White Dorper stud owners, Jamie McTaggart and Scott Herde, from Merino wool growers into Dorper meat sheep.
There are a number of cooking segments that are all using "Spear Creek Dorper saltbush lamb" - from a Dorper lamb pizza in the Blinman pub, to a butterflied leg of lamb in a camp oven on a mustering camp out in pastoral SA. The program is predominately a cooking show but the promotion of the breed and their attributes is also a big part of it. Consumers today want to know about their product and how it is produced so mulesing and shearing etc are important things the program covers.
Most importantly, Dorper lamb is as good as any lamb on the market in Australia today. Spear Creek Saltbush Dorper is certainly right up there with the best. Last year they earned Gold and Bronze medals at the Sydney Fine Food Show and the year before a Silver medal in the grass fed class.
To view the Outback Lamb episode airead on Poh's Kitchen "On the Road" on Wednsday 28th September, click here.